The group first met with TMA's Chairman,
Dr. Nguyen Huu Le
, who gave a descriptive tour of the Museum on the ground floor that contains
an incredible collection of various paintings, sculptures and books. Together they
reviewed ancient Vietnamese artefacts and tools while Dr. Le told stories of his childhood, how his family made a living and how the water buffalo was almost like a member of their family.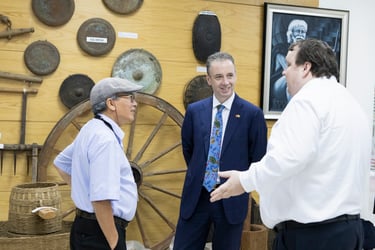 After the guided tour they went to the 11th floor to see how the operations of vsource are ran and to meet some of the senior managers.
With all the visiting done, they moved to the war room on the 10th floor and enjoyed a hot cup of Barry's Tea as well as some chocolate digestive biscuits, chit chatting about the recent success in KL for the Saigon Gaels winning the Senior Hurling final in the Asian Games.
There was a quick review how Irish businesses have progressed over the years and where vsource plans to go in the future.
The Ambassador has three main aims while in his 4-year assignment in Vietnam:
1) Improving the Vision and making it more apparent that the Irish have a presence here.
2) Increasing the trade between Ireland and Vietnam
3) Education, with a particular focus on third level.
On these, there has been many successful exchanges between Irish and Vietnamese students giving both the opportunity to experience different cultures and learn new skills. vsource (and our CEO James Galvin) is a sponsor of
VIBE
and highlighted some of its successes and challenges. We currently have 1 student doing a PhD course in Trinity due to graduate at the end of 2021 through the VIBE initiative.
Emmet Quinlan presented vsource's CSR initiative the Big Smile Guild and its vision of enriching lives to create a healthy, sustainable and happier world.
Clear signs of successful collaboration to come between the Irish Embassy - DFA, Irish Aid, IBAV, Enterprise Ireland and vsource.
In a good chat that evening at O'Briens pub with our Delivery Manager Emmet Quinlan, Alan had nothing but good things to say about vsource, what the company has already accomplished and what we hope to achieve in the future.
Thanks for the visit and looking forward to the next one.
* In the photo, left to right: Richard Blain, Nga Luong, James Galvin, Amb. John McCullah, Emmet Quinlan, Chi Nguyen (Irish Embassy), Alan McGreevey (Irish Embassy), Lan Chi Nguyen