Candidate outreach is one of the most important aspects of recruitment - particularly when it comes to keeping those passive candidates feeling all warm and intrigued. However, it's also one of the most time-consuming processes and one that for some, is quite difficult to master.
But before we get to those best practices we mentioned in the title, let's first take a closer look at what candidate outreach actually entails.
What is candidate outreach?
As you are probably well aware, candidate outreach is when you make contact with a prospective candidate about a role that you feel they are well suited to.
Reaching out often involves personalizing emails or messages and also tailoring these messages to appeal to individuals based on their skills or background. But more on that later.
What we will tell you now though is that candidate outreach takes quite a bit of effort and no small amount of time and we all know how much busy recruiters value their time. With a team to manage, resumes to screen, and interviews to arrange, it's little wonder that many fall back on the old copy and paste routine when contacting their candidates.
But that's not such a bad thing, is it?
Actually, if you read on a little further, you'll realise that it's one of the worst things you could possibly do.
Also Read: Outbound Sourcing: What Is It and Why Is It so Important?
Candidate outreach best practices
Make it personal
You have 50 potential candidates that you'd like to reach out to and a seemingly endless list of other tasks to complete. So you do what you have to; write a generic email and send it off to the list.
The problem is that generic emails are very easy to spot and the last thing you want is for your candidate to feel that they are just one of many; you want them to feel that they are the one.
Personalised messages build relationships, and if you know your recruitment 101, then you'll know that success in this industry is all about relationships. So while that generic email may have saved you a couple of hours of work, in the long run, the poor response rate will likely increase your time to hire.
Keep it short and sweet
Long emails are a big turn off especially when it's not something you don't have to read. But finding that sweet spot between too much and too little can be tough.
Go into too much detail and your candidate may just see a block of text and switch off immediately. Offer too little, and they'll assume it's an email template sent out to the masses.
Try to aim for three brief paragraphs with a word count no lower than 50 or higher than 125. And those paragraphs should include an introduction, a brief outline of the role, and a definitive call to action. And speaking of calls to action…
Use a call to action
When a candidate reads your email or message, they'll expect to find clear instructions on what to do next. It could be a simple link directing them to your careers page, or it could be a phone number for them to call. It could even be a simple request asking them to respond directly to the email. Whatever step it is that you'd like interested candidates to take, make it crystal clear or face losing them as a lead.
This may seem like common sense, but it's surprisingly easy to forget this crucial piece of the outreach puzzle. Put yourself in the shoes of your candidate and reread your email or message then ask yourself what should you do next. If it lacks clear instructions, then you have work to do.
Oh and by the way, never assume that a candidate will understand how the recruitment process works. It could be their first time receiving emails from a recruiter or hiring manager.
Follow up
How many times have you received an email but completely forgotten to reply to it? Or what about those times when important messages somehow end up in your junk folder? It happens to everyone, so it's imperative to follow up on each and every email or message that you send.
A simple message asking if they received your previous email is all it takes to jog a candidate's memory and it's also a great way to get the conversation started. Those who have missed your email will want you to know that they weren't ignoring you while those who plain forgot will be grateful for the reminder.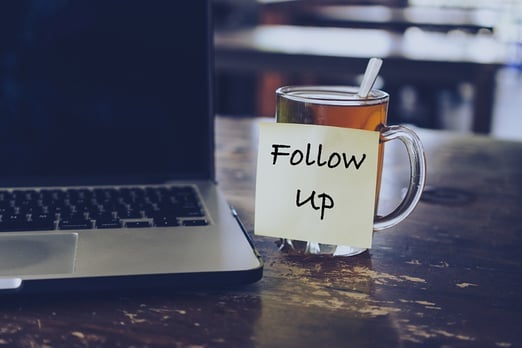 Stay in touch
Even if a candidate failed to land a role or was uninterested in a particular vacancy, it's a good idea to stay in touch. Generally speaking, most candidates will be only too happy to receive emails from time to time as they keep their options for the future open.
Of course, how you choose to stay in touch depends on how you cultivated the relationship with your candidate. You might call them from time or simply send them the odd text. But when you have an overflowing pipeline full of talented candidates, reaching out in such a personal way could take up a lot of your time. And this is where nurturing your candidate pipeline comes into play.
Create that community spirit
Okay, so while it might seem like we're moving away from candidate outreach just bear with us on this. Building your candidate pipeline is, of course, essential but nurturing it is in fact, one of the most productive uses of a recruiter's time and here's why.
Once you have those talented prospects in your pipeline, it's vital that you remind them of your relationship and the company's brand image as regularly as possible. This creates a positive image of the company being a good employer and of you being a good recruiter with only their best interests at heart.
Along with your regular method of staying in touch, consider creating a newsletter that you can send out once or twice a month to your candidate pipeline. This newsletter can outline company news and can even include a section on current or future vacancies. It should also include a call to action to get involved in discussions on social media or to comment on relevant content that is posted to the company blog.
You can also encourage candidates to follow the company's social media accounts or your own work-related profile. This allows candidates to understand what it is like to be a part of the brand's community and may just be the slight push they need to apply for an upcoming position.
As you can see, candidate outreach is no simple copy and paste job and to truly get the most out of it, you may need to rethink some of your current processes.
But there's no point in reaching out to candidates unless you're sure they are qualified for a role, and that's where we come in. Here at vsource we take candidate sourcing and pipeline building to the next level. Looking for candidates with a particular set of skills? We will find them. Need a pipeline brimming with qualified talent? Say no more. Just hit that button below, and we'll handle the rest.